WORKSHOP/PERFORMANCE:
ONE SHOT- REAL-TIME COMPOSITION

With Mark Tompkins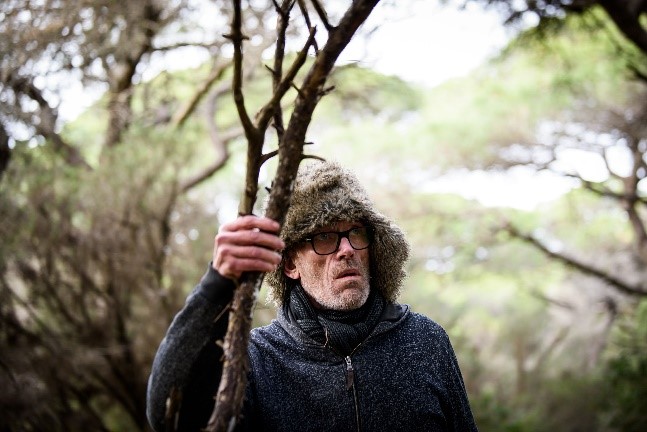 April 4th to 8th, from 10 am to 5 pm: Workshop

April 8 at 5 pm:
– Sharing with the public –
Performance with workshop participants and a group of African percussion students from BangBang Percussões.

Location: Municipal Youth House of Cacilhas – Ponto de Encontro
Target audience: professionals and students in the performing arts area.
Maximum number of participants: 20
Free participation.

Registration through the form available at: www.casadadanca.pt/oficinas/ (until the vacancies are filled in order of reception).
ONE SHOT
When a performer improvises, he/she is simultaneously listening, watching, sensing, acting and reacting to the sensations and the perceptions. The art of real time composition is not so much about alternating roles: passive- active, moving-witnessing, center-support, inside-outside, but to remain open to the wealth of internal and external impulses, and to receive, process and propose material in an uninterrupted flow of feedback. How to be actively attentive, avoid overload, do nothing and still act.
All of the senses are active all of the time and micro-shifts occur constantly. You also make conscious choices to shift, or change. Inhibiting or permitting one sense to predominate diminishes or augments the others. Bridging, or connecting two or more sensations, facilitates shifting. Attention to the flux – body, breath, space, sound, light, people and objects – creates potentials* of what might happen. Shifting keeps the dance alive.
MARK TOMPKINS

American dancer, choreographer, singer and teacher, he founded the Company I.D.A. in 1983. Over the years, his way of fabricating unidentified performance objects by mixing dance, music, song, text and video has become his signature. Solos, group pieces, concerts and improvised performances are part of this journey initiated in the 70's, and with the complicity of set and costume designer Jean-Louis Badet since 1988. His passion for Real time composition leads him to collaborate with dancers, musicians, lighting designers and video makers. Renowned for his teaching, he travels around the world. In 2008, he receives the SACD Choreography Prize for his work (Society of Dramatic Authors Composers).
Fascinated by the frictions and resonances between high and low entertainment, his performances are inspired by popular forms like music-hall, musicals, and burlesque and gender ambivalence. He also sings and dances in the concerts of Sarah Murcia and musicians, collaborates with the Portuguese choreographer Mariana Tengner Barros, and since 2016 with Meg Stuart and Gilles Toutevoix on a series of improvised performances and a book, ONE SHOT dialogues on real time composition to be published in May 2022 aux Editions l'Oeil d'Or.